Cecilia Miller is an historian of ideas, and she has taught at Wesleyan University in Connecticut since 1991. As an Enlightenment scholar, her research interests are in the history of European ideas broadly defined, from antiquity to the present, especially the philosophy of history; political, economic, and social theory; political fiction; the philosophy of science; the philosophy of law; and aesthetics.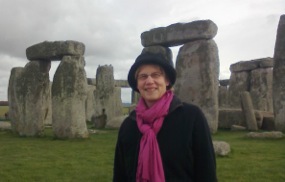 Cecilia Miller has three current research projects: Enlightenment and Political Fiction; Augustine's Confessions through the Ages; and Theories and Models—on creating theory in complex systems, ways of categorizing knowledge, and leadership ability.
She gave a public lecture, "The Everyday Intellectual: Enlightenment and Political Fiction," at the Italian Department at Yale on October 13, 2014.

Her latest review in The Times Literary Supplement, "From Homer to the Urban Poor," appeared in the August 3rd, 2012 issue.
Cecilia Miller won the Binswanger Prize for Excellence in Teaching at Wesleyan in 2002. She was an Alexander von Humboldt Research Fellow at the Freie Universität Berlin, Germany, from 1996-1997, and she was an Andrew W. Mellon Postdoctoral Fellow in the Humanities at Columbia University, 1989-1991. Cecilia Miller received her D.Phil. in Modern History from Balliol College, University of Oxford, in 1988. Her doctoral supervisor was Sir Isaiah Berlin. Her doctoral thesis was published as Giambattista Vico: Imagination and Historical Knowledge (London: Macmillan, 1993). For selected citations of her book, from Google Books, see: CM Vico book citations. For a list of her publications, in philpapers, Online Research in Philosophy, see: philpapers. Cecilia Miller recently finished writing a book manuscript on Enlightenment and Political Fiction. 
Born in Los Angeles, Cecilia Miller grew up around the world, giving her an unusual perspective in her intellectual pursuits.  In her research, she uses French, German, Italian, Spanish, and Latin.
In the summer of 2013, she walked the Camino de Santiago, the medieval pilgrim path in Spain.
Web Design: Kevin Wiliarty